This is a blog entry from back over the spring, when P still loved me. I took it down when I began to realize things were not what they should be. He, however, had put it on his Myspace page, so it's not lost forever. When he transferred it there, he removed a key term, 'my boyfriend Paul', and replaced it with 'my friend Paul.' I guess I knew then that something was very wrong, and that he and I would probably not make it, even though it's taken me this long to let that truth into my heart.
I'm reposting it as a tribute to what we had together, to how much we loved each other, and even now, after all that's happened and the incredible hurt I'm in right now, to him, because I still do and always will love him.
Letting go is hard, and three years is a long time to be attached at the soul to someone - and we were - but this is my way of doing it. Messy, ugly, needy, but honest. I am learning to see truth and right now, truth sucks.
This is cut and pasted from Paul's page, so the first comment is his. The later comments that are mixed in were placed by real live people, but it looks funny cause it's all been taken out and put back in.
***
The following is an excerpt from a blog known as "ciaomanhattanbaby" and is one of the kindest blurbs ever written about me:

My friend Paul and I were watching YouTube videos last night. I am trying to convince him that Taylor Hicks is more than someone who just "won a fucking singing contest." It's a hard row to hoe. In watching music clips we strayed from Taylor to Jimmy Hall to a bunch of old videos I had bookmarked from Ash's board, like Son House, Koko Taylor and Big Mama Thornton, and others I was less familiar with, like an incredible clip of Hound Dog Taylor and Little Walter. In watching those videos it suddenly struck me how many talented and one-of-a-kind musicians go their entire lives without being recognized as such. Paul is one of these musicians.

Lemme tell you a little about him and perhaps get his 15 minutes started. First off, you gotta understand, Paul is a madman. Absolutely insane. Here's my favorite picture of him, taken when he was maybe in high school. This photo captures who he is more than any words could do: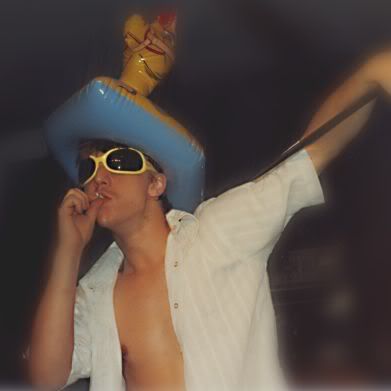 Little has changed in the 25 years or so since that picture was taken. Paul treats life as a giant adventure, and his weapon of choice is music, specifically a Yamaha keyboard and Hohner Special 20 harmonicas. He is bad ass, all the way around. But here's the deal: this man is seriously talented. He sings, plays harp, keyboards and guitar, he mixes and produces music AND he was the founder and first owner of the Fabulous Forty Watt Club in Athens, Georgia.

But do you know him? Of course not. His music is only available to a small group of people who are both in the right place and the right mindset, and who are able to seek out unknown talent. Paul has played with some of the greats - Jack Hall, Chicago Joe Jones, Cindy Wilson, June Carter Cash - but most of you probably won't have a chance to see him perform his special brand of throw-down raw stinky sweaty blues, and that's a shame.

So my question is this: how much mind-blowing talent will we never know about? How many artists, musicians and writers out there will never be able to touch the masses? Taylor's whole "I wanna have my voice heard" schtick is not far from the truth, because for every Dylan there is a Nick Drake, for every Jack White there is a Dexter Romweber, and in this case, for every Jimmy Hall there is a Paul Scales.

How amazing would it be if we could give them all a chance.

Posted by Julie at 2:27 PM

Labels: Athens, Paul, pop music

4 comments:

cherie said... Amen. I've always thought that the best music is not the stuff you hear on the radio. Is it because the teenyboppers are the ones who buy the cds and determine what's popular? May 5, 2007 5:11 AM

Peanut said... Damn! Paul has played with some legends, including June Carter Cash! Man, I bet he has some great stories...I'd love to chat with him someday. Maybe one day we'll all be able to hang out at Fatt Matt's or something? May 5, 2007 3:32 PM

Paul Scales said... Such kind words from such kind folks. My playing piano on "Will the Circle Be Unbroken" with Mrs. Cash at the Midtown Music Festival was a total random thing. Mrs. Cash was the anchor talent on the gig, so naturally, she closed out the show. As fate would have it, the abreviated version of the Cindy Wilson Band (Cindy Wilson - vocals, Steve Baskin - guitar, and myself on piano)were the last to perform just prior to the closing segment of the show featuring Mrs. Cash. Mrs. Cash launched into the gospel classic and there I sat at my piano...what else could a poor boy do but play as the tune morphed into a giant sing-a-long. A once in a lifetime circumstance, no doubt, and trully an honor and a privilege. Julie is right, there is an unbelievable amount of talent just under the radar of public recognition, so it makes sense to support local music as much as possible as that is where the ball starts to roll. May 6, 2007 7:10 AM

Peanut said... Paul! Good to see you here! What a great story! No matter how it happened, you went with the flow, and ended up sharing the stage with a legend. That's awesome! It's a shame how great talent like yourself, and the others that Julie has mentioned, go unnoticed. Why does the music business (and its consumers)have such a narrow view on what is "mainstream?" I've always been into the blues, and it seems that this genre of music gets the shaft more than any other. I am a big fan of Jonny Lang, and have been since he released his major label debut when he was like 17. He's young, hip, nice-looking. Got all the makings of a star...or so one would think. But he is only known to those who enjoy the blues. He gets no airplay around here, and word-of-mouth is probably how he gets new fans. Supporting local music is right! I have seen many of my friends do what they love, and that's play music, for little or no money. They live and breathe music. Someone needs to give them a chance!

***

I remember the night I refer to up there, watching the videos together. We were holed up in the Quality Inn, as usual, watching videos and porn on my laptop, probably naked and smoking cigarettes, too. It was a really special night, and I remember thinking "Who else on earth would I sit here with and watch old blues videos on YouTube, discuss and critique them, take breaks to play his harp for me and kiss me, and who would actually enjoy spending the whole night doing it but Paul?" It was a fun, close, wonderful night, and so ordinary. That's what I miss the most.

So that's how it was once. It's all changed now. Now I'm a girl who was betrayed, lied to, and who spent the last four nights in the psych ward at Emory. I'm somewhat better now and next week will go into what's known as 'intensive outpatient therapy' for the next five weeks. That's all I really know.

Don't ever think you know someone, cause you don't.