I went to a book sale at Rosie's school a couple of weeks ago. I bought a ton of books and brought them home in a cute green recycle bag that I also bought there. Then I forgot about them. Yesterday I looked inside the cute green bag, pulled out my books and was happy to see what good things I'd found. I realized I have my summer by-the-pool reading supply, all for under $10.00.
First on the list,
Wise Blood
, by Flannery O'Connor. No, I've never read it all the way through. In fact, glancing at the back cover I realize I've never read it at all.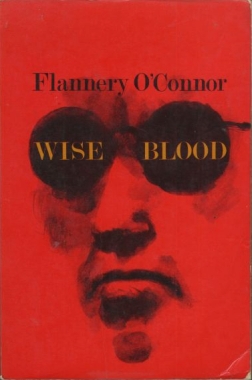 My copy looks just like this, by the way.
Second book:
As I Lay Dying
, Faulkner. I was told by a very erudite gentleman that it's the best Faulkner by far. I personally love
Light in August
an awful lot, so AILD has its work cut out for it.
My cover is nowhere near this cool, just plain white. I remember now that I actually did read this long ago, and loved it, so this should be interesting.
Book number three: Umberto Eco's
Foucault's Pendulum
, mainly because it has Foucault in the title, but I think I've heard this book referenced quite a number of times and feel like the universe is sending me signs that I need to read it.
My copy looks just like this. I don't know why I'm mentioning this every time but it seems significant.
Next book:
Wise Children
by Angela Carter. I love Angela Carter. She's a quirky British writer who weaves fiction, fact and fairy tales (sorry about the bad alliteration) in an odd way, questioning the borders between reality and fantasy. I once read a story she wrote called "Lizzie's Tiger," the crazy tale of a five-year-old Lizzie Borden sneaking out of the house to go to the circus. It's amazing. I later learned that there is a series of stories by Carter about Lizzie Borden.
Plus I just love the cover (mine looks like this) and the description of the story. I discovered when I googled the title that this was her last book, that she learned that she had cancer in the middle of writing it. Sad.
What else should I read?