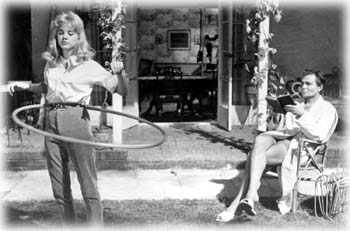 Does anyone out there love Lolita as much as I do? Not the book, and God knows not the cheesy remake, but the original Kubrick masterpiece. For me, it's up there with Franny and Zooey, which I have to read about every two years. I simply must see Lolita every so often or I get cranky. What a performance by James Mason as the uptight, in way-over-his-head pedophile, Humbert Humbert. Shelley Winters makes Charlotte Haze both a tragic character and just annoying enough that we want her to somehow get killed off. Sue Lyon is a pain in the ass, but damn, such an adorable conniving teenager from hell. And Peter Sellers is, well, Peter Sellers.
How did this movie
ever
pass the censors? I guess it's so tongue in cheek that no one caught the blatant references to what was really happening in West Ramsdale.
"I think it was your....cherry pie!"
"It's loaded with mayonnaise, just the way you like it!"
"If you were in my class I'd give you an A+."
Those of you who've seen it, here's a couple of scenes I know you'll love. Those who haven't seen it, shame on you. Get to the video store stat.
Chachacha...